| | |
| --- | --- |
| General Info | Our Mission & Vision |
Alpha Sharks Swim Club is the oldest swim club in the English-speaking Caribbean, and the largest in Barbados, with a reputation for producing top quality national swimmers. The club was founded on May 20th, 1966 by Mr. Albert Weatherhead, six months ahead of Barbados becoming an independent nation.

From it's inception, Alpha Sharks has continued to build on the mandate of its founders to encourage all the disciplines of swimming and to promote and encourage the principles of life saving and water safety.

Based at the Barbados Aquatic Centre, which features the only Olympic-sized pool on the island, Alpha Sharks Swim Club boasts a legacy of top-class swimmers who over the years, have left their positive mark both in Barbados and on the international swimming scene.

Alpha Sharks delivers a variety of professionally structured swimming programmes, under the direction of our highly qualified and dedicated coaches. With respect, enthusiasm, humor, and patience, we challenge our athletes to reach for levels of achievement they have not yet realized, and encourage them to measure the success of their efforts by the progress they make.

Ultimately, we seek not only to provide our athletes with vigorous preparation for competition, but also to inspire them to strive for the highest quality of citizenship.

MISSION: To develop the physical, psychological, emotional and social potential of all persons of all ages through the discipline of swimming.

VISION: To be the pre-eminent club in producing high achievers in the areas of both academia and sports. Emphasis is placed on maximization of the potential of the individual in their area of prowess.

Physical - The creation and continued improvement of swim programmes that will be challenging and fun.

Psychological - Improve the mental capacity of the children as they cope with the joys and disappointments that go hand in hand with swim training and competition.

Emotional - The creation of challenging but achievable benchmarks for the children as they progress to the different levels of swimming prowess thus helping to raise the self-esteem of the child in having achieved and conquered a specific goal.

Social - Provision of an avenue whereby persons can interact with each other and build lasting relationships both locally and on the international front as the team travels to various territories and undertakes various activities.
---
Our Top Achievers

Leah Martindale
​became the first female swimmer in Barbados and the Caribbean to go under one minute in the 100M freestyle. She went on to become Barbados' first female finalist in swimming at the 1996 Olympics Games in Atlanta.

---

Andrei Cross
​represented Barbados at the Bejing Olympics in 2008, in the 100m Breaststroke.

---

Terrence Haynes represented Barbados at the 2004 Olympic Games in Athens and the 2008 Olympic Games in Beijing.

---


​


​Alex Sobers represented Barbados at the Rio Olympics in 2016, in the 400m Freestyle. Alex qualified for Rio with a "B" time.

---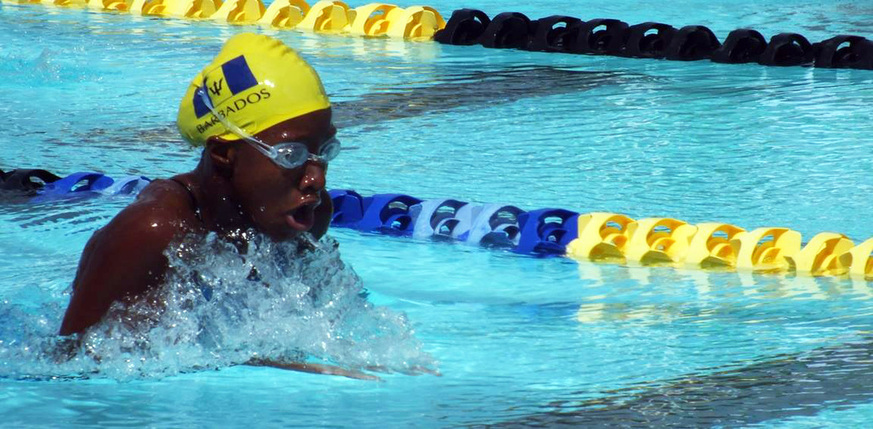 ---